Korea SEO ? Begin at URL submission with Naver Webmaster Tools!
---
As you know, most of search engines manage Webmaster Tools for site owners to monitor and handle crawling and indexing matters of sites as well as to do site submission.
Korean largest search portal and search engine Naver's Webmaster Tool launched on June 2014 could not supported this core functions.
So, Naver Webmaster Tools tool have tweaked their functions continuously.
Especially, since mid. of Feb. 2016, the site URL submission descriptions via Naver WT were applied at Site Collection.
Site Collection is the most effective non-commercial area at Naver SERP(Search Engine Results Page).
In the meantime, the site URL submission was accepted thru directory listing only.
This directory submission was suspended now and the submission is accepted at Webmaster Tools only.
Now, at Naver WT, you can do verification, submission, monitoring, etc.
We herein introduce how to use Naver Webmaster tools.
♦ 1st Step : Create Naver account
You can create Naver account at https://nid.naver.com/user2/joinGlobal.nhn?m=init&lang=en_US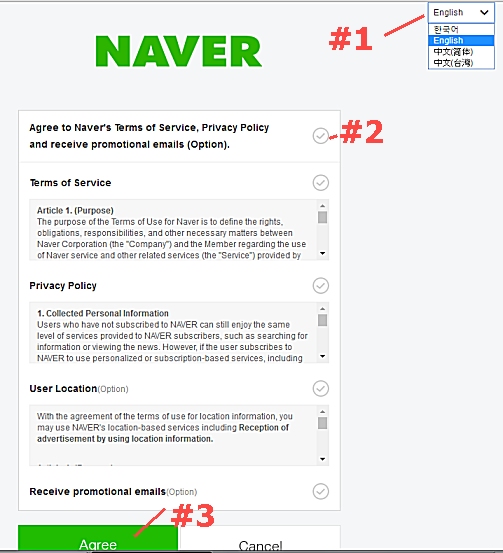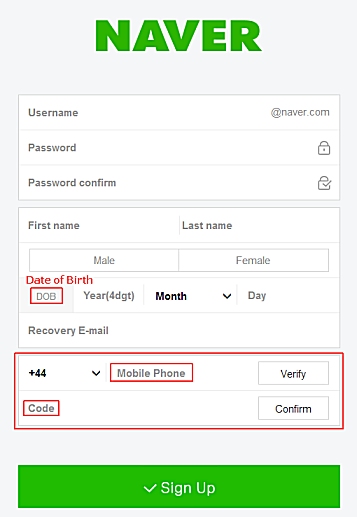 You can create account easily.
♦ 2nd Step : Enter into Naver Webmaster Tools
You can log-in Naver Webmaster Tools at http://webmastertool.naver.com/.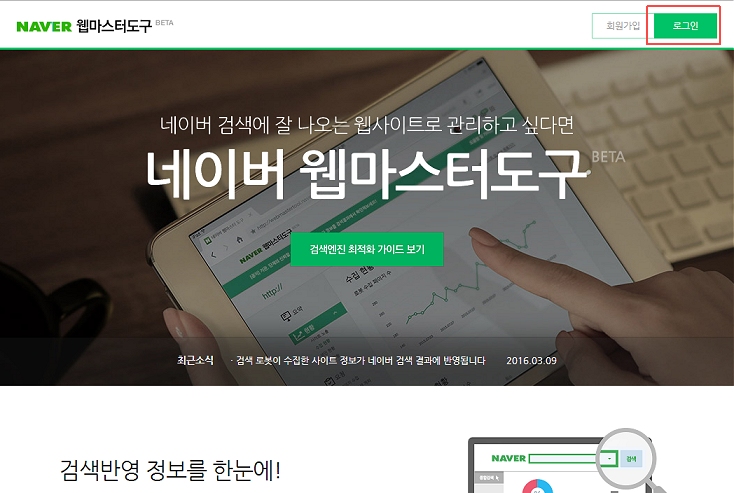 ♦ 3rd Step : site verification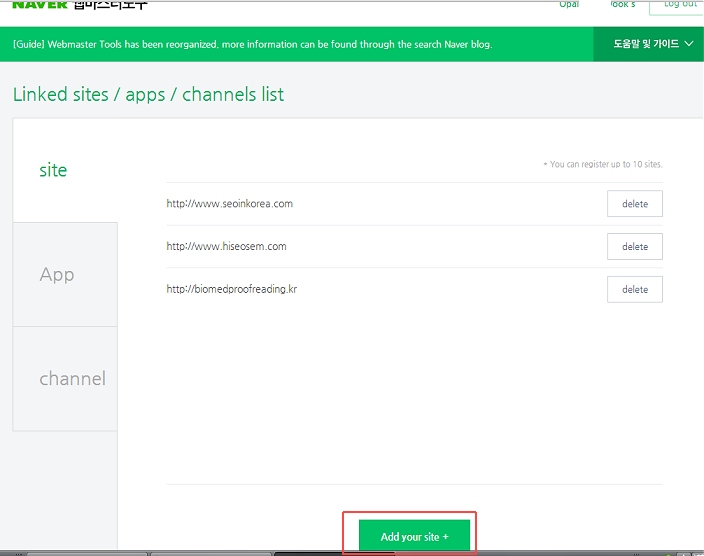 # This screen shot is translated with Chrome translation tab.
To proceed works, no problem with translated page. Click "Add your site" button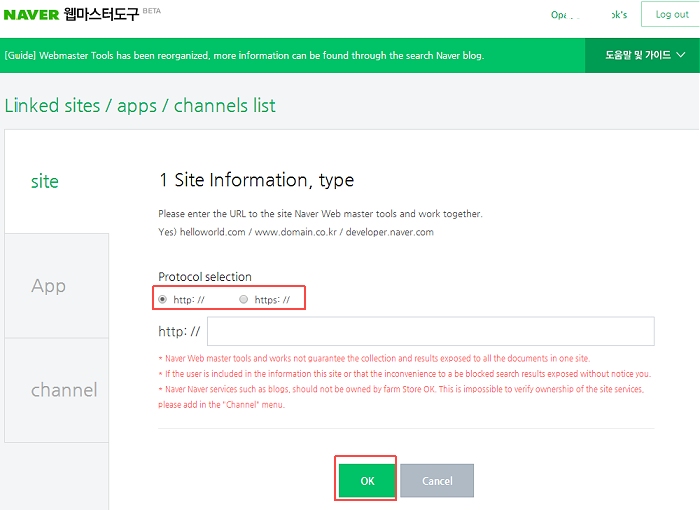 At here, you can insert your domain.
Available url types are www.sample.com  sample.com and sub.sample.com.
Currently, www.sample.com/sub is not available.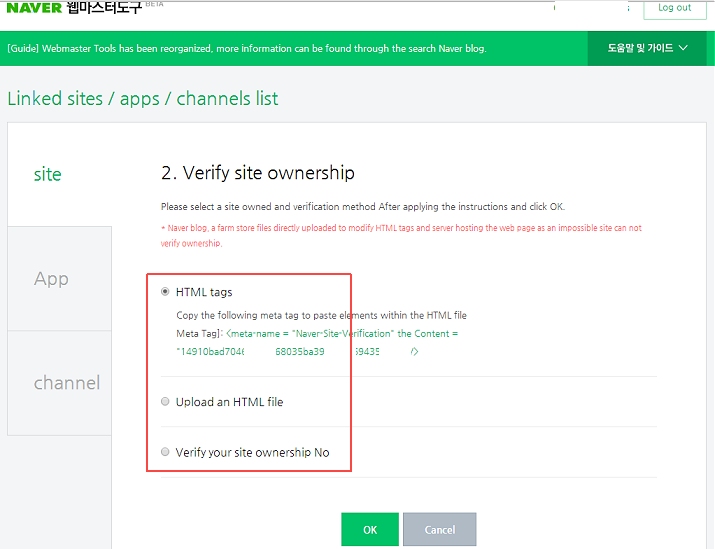 As you see the above, there are three type of site verification.
No need further explanation. 😉
You already know the method as you do at Google Search Console and Bing Webmaster Tools.
Though you cannot verify site ownership, do not worry and check the 3rd radio button and O.K. button. Then, finished!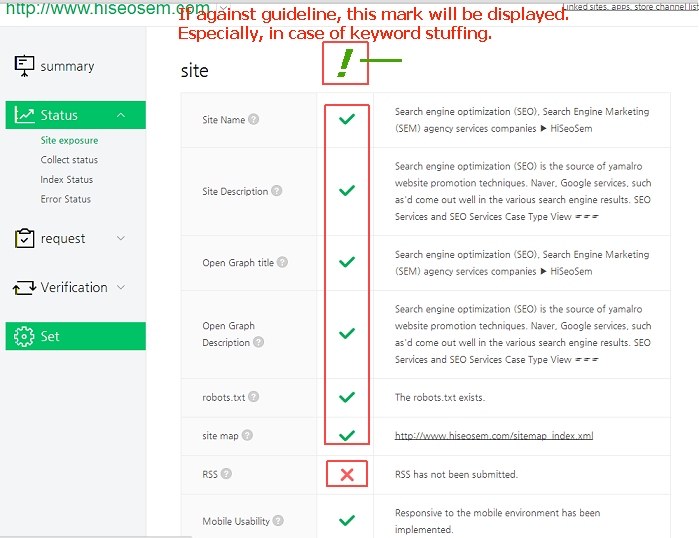 After finished site submission, you can monitor and operate at the Webmaster Tool menus.
The above shot is site status.
There are three types notice icons. Try to avoid "!" icon.
No need all "V" icons but recommend the above top 6 icons with "V" icon.
At SERP site collection, title tag, meta description and sometimes OG description is applied. So, write appropriately with normal webmaster guidelines.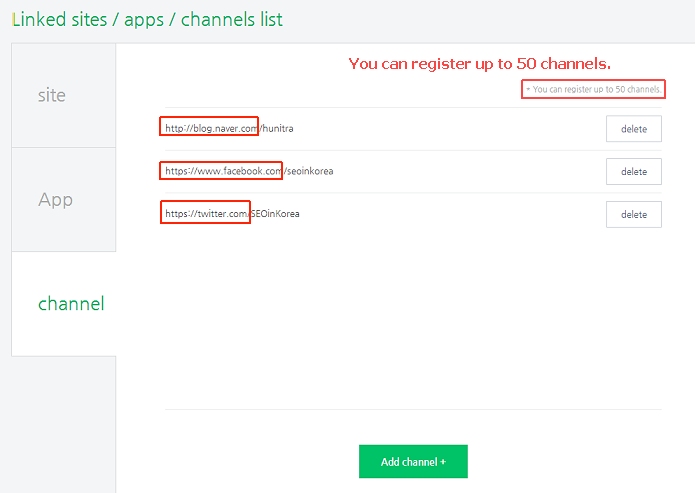 If you manage SNS and APP channel, you can register at Channel tab.